Your local Eatery and Bar, serving delicious food and drinks
Located in Taupo at the heart of the North Island you will find us, Lake Bistro. We are a casual bar and eatery serving quality, sustainably sourced ingredients. Whether its dining, or just popping in for a drink, We are here to welcome and delight.
Our friendly and attentive team thrives to deliver outstanding customer service and will make certain that you enjoy your dining experience at Lake Bistro.
OPENING HOURS:
Monday: 5pm – late
Tuesday: Friday: 7am – late 
Saturday: 8am – late
Sunday: 8am – 3:00pm
NOTE:
due to staff isolating and shortages that our opening times are consistently changing, so best to call reception on +64 7 378 8265 when wanting to dine with us.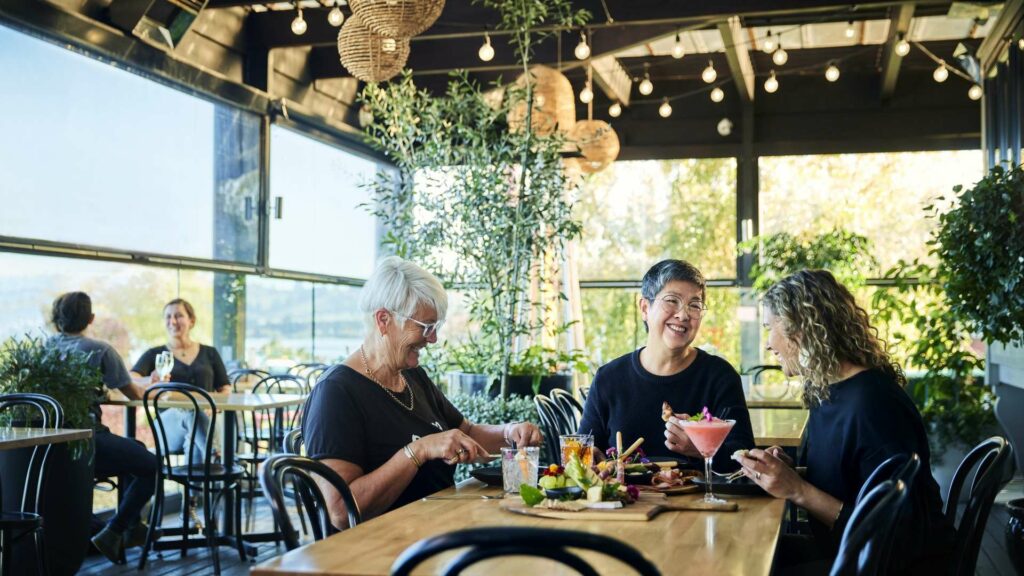 Reservations
To book a table at the Lake Bistro Taupō use the booking widget at the bottom of the page. Reservations are a must for dinner. There is no need to book for the lounge or terrace lounge.
Afternoons at Lake Bistro, Taupō
In the afternoons, the hotel is open to guests and day-trippers for hot and cold beverages and freshly baked treats. Whether it's for a bite to eat during a walk or a glass of champagne, all are welcome to make use of our terrace and lounge. 
The Terrace
Suncourt Hotel and has one of the most stunning view of Lake Taupō and the mountains of the Tongariro National Park. Enjoy the stunning vistas from our Lake Bistro Terrace. Drenched in sunshine until late in summer and with a fully enclosed and heated area to protect you on colder Taupo days, the terrace can be enjoyed all year round.